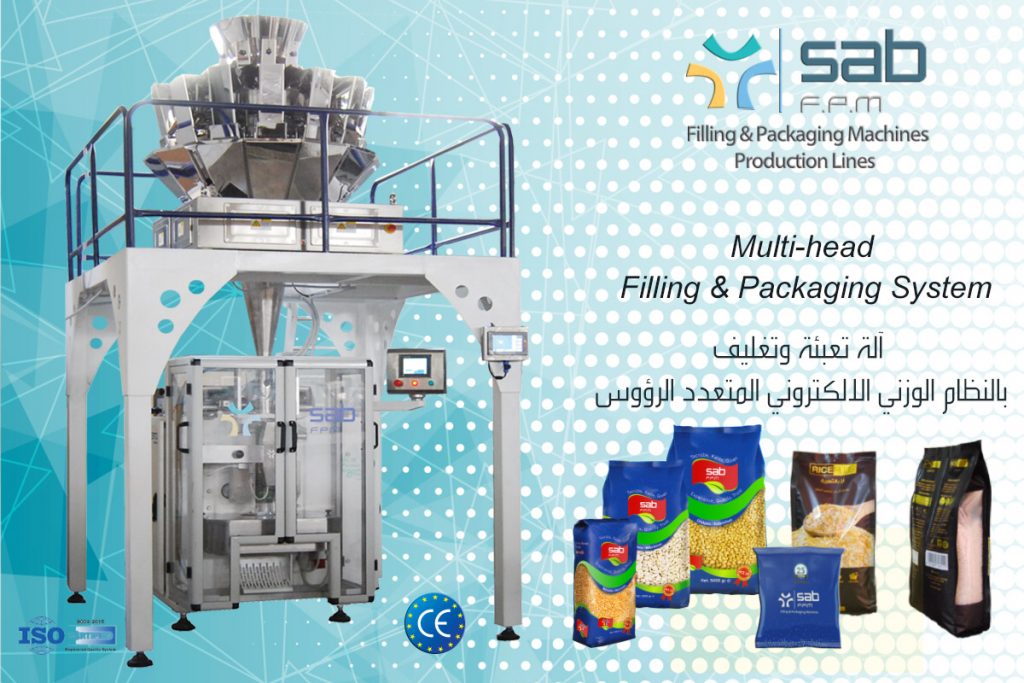 Multi-head Filling & Packaging System for Foodstuffs,  
Products: Sugar, nuts, rice, granules…, potato chips, small plastic parts, tea, frozen foods, … etc.
Manufactured by SAB F.P.M Filling & Packaging Machines ., in cooperation with Schneider Electric France, and Festo, Germany.
Machine Overview:
This machine is dedicated to fill and pack regular & irregular shaped products (rice, cereals, nuts, snacks, granules, … etc.), in Pillow type pouches. Other pouch types/ dimensions are available upon special request.
The machine was designed after thorough studies made by a team of technical specialists to ensure all the measures required for the safety and protection of operation and personnel.
Machine design facilitates maintenance and service. Operation does not need special know-how.
Machine undergoes actual quality tests on buyer's products before delivery.
Clients' feedbacks were taken into consideration so the machine became highly versatile in meeting clients' requirements and enjoy higher quality and performance.
All machine parts are fabricated on programmable CNC machining centers, and undergoes quality control tests which gives them high reliability.
Machine Operation Principle:
Product is fed to machine via a feeding elevator (optional) which delivers product into machine tank where the multi-head (combination system) weighs the product and sends it to packaging station where the pouch is automatically shaped, sealed and marked with production & expiry dates. Finally a finished pouch is produced and sent out of machine, ready for sale (with an option to print out production and expiry date).
Machine specifications:
Weighing Section Specifications:
Electronic weighing system With 10 weighing heads to get high weighing accuracy.
10 weighing hoppers.
Integrated product feeder with adjustable gates.

Load cell holder with vibration-proof set.
with an industrial PC incorporating  7″ touch panel in both English & Arabic to control weighing functions.
Water and dust proof according to IP-65.
Scales protection system against excess weight and shocks.
Special pneumatic system for product discharge.
Maximum filling weight: 1000 grams.
Minimum filling weight: 20 grams.

Can save up to 250 programs.
With a special platform to connect between filling machine and packaging machine with a ladder.
Bag making Section Specifications:
Pouch dimensions:

Width: 10-22  cm.
Length: 10-34 cm.

Pouch shape: Pillow type pouch (4-side sealed, or block bottom gusset pouch are available upon special request).
Production speed:
Machine productivity is 50 packages per minute approx.
Usable Packaging film:
Usable Packaging film: All standard heat sealable films except for pure polyethylene.
Videos of Machine 
Product video
We are here to help
Register now