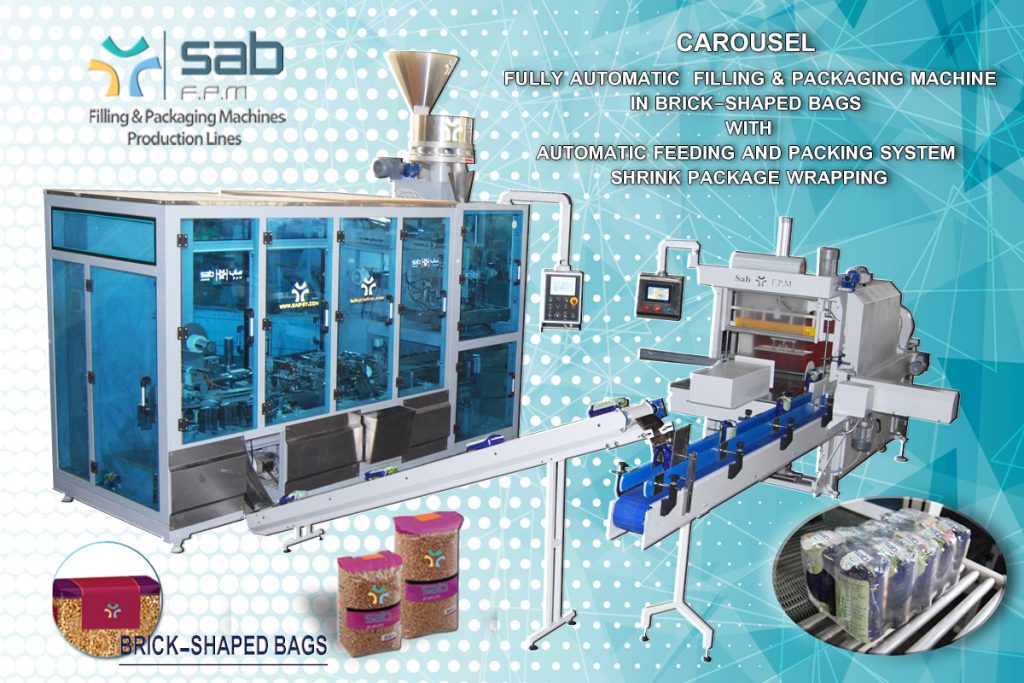 CAROUSEL Packaging machine
Fully Automatic Filling & Packaging Machine in brick-shaped bags With automatic feeding and packing system (Shrink )
CAROUSEL PACKAGING MACHINE
with 
Products:
Nuts, rice, sugar, cereals, salt, pulses, legumes, detergent powder, starch, instant coffee, juice powder, milk powder, depending on  filling system installed.
Features:
Full intelligent PLC control.
Servo motor drive for double square bottom station.
Easy to change forming tube.
All parts in contact with product are made of food-grade stainless steel.
Smart control system with alarm detection and data logging.
Multi-Function operator display with up to 50 recipes & programs.
Electric, control, & Automation supplied by Schneider Electric.
Pneumatics supplied by Festo.
Technical Specifications:
Filling weight range: 400-1000 grams.
Production capacity: 40-50 bags/ minute, for 1000 grams of weight.
Electrical Power: 380 VAC, 50-60 Hz, 7.5 KW.
Compressed Air: 8 bars, 1000 liters per minute.
Optional filling Systems available:
– Multi-Head Weigher.
– Volumetric Cups Filling System.
– Auger Dosing System
Product video
We are here to help
Register now