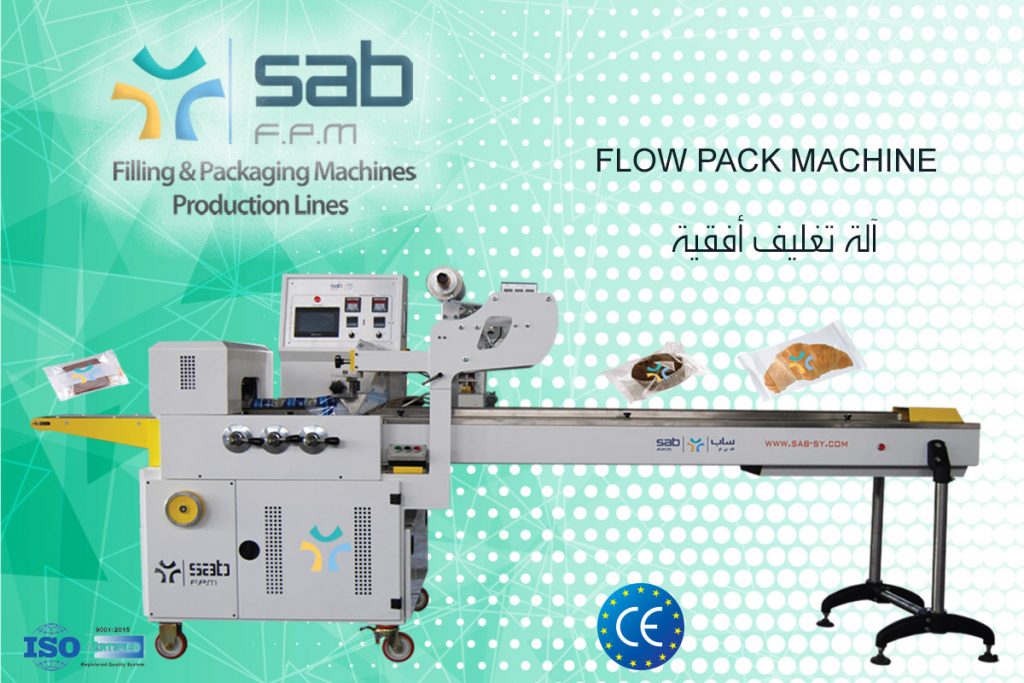 HORIZONTAL FLOW WRAPPING MACHINE
Overview:
SAB fpm has been building flow-pack machines (HFFS) for more than two decades.
This machine was developed as a result of decades of experience and accumulated know-how, with the motive of supplying a perfect product for our customers in different industrial sectors.
Features:
Extremely flexible.
Top performance and reliability.
Ease of operation, quick change over and simple setup.
Minimal maintenance, easy cleaning, and easy to move.
Wide package size range.
  Applications:
SAB-24-A can pack regularly shaped, solid products such as: sweets, chocolate bars, wafers, soap bars, bakeries, ice cream bars, confectionery, etc.
Technical Specifications:
Heavy duty construction, light and compact frame, made in fabricated steel, painted white.
Parts which contact the product are made in AISI 304 Stainless steel (optional 316).
Package specifications and production speed for each model:
Model

A1

A2

A3

Min. product dimensions (LxWxH:  mm)

30x20x2

40x20x2

60x60x15

Max. product dimensions (LxWxH: mm)

130x60x25

210x100x50

280x160x80

Speed (pouch / minute)

50-200

50-200

24-80

Packaging film roll max. width (mm)

220

290

460

Packaging film roll inner diameter (mm)

74-78

Packaging film roll max. outer diameter (mm)

350
Package shape: Pillow type, 3-side seal pouch.
Production capacity is subject to product shape, size, and packaging film used.Feeding System:
Product is fed to the machine manually, one piece at a time (automatic feeder available upon request).
Products enter the machine through a conveyor with the following specifications:

Adjustable guides ensuring the movement of products within track.
Product pushing system into the packaging system.
3-meter long.
Pouch Forming & Sealing System:
Longitudinal sealing system, with three stages to pull packaging film, the central stage seals the package from underneath.
After products enter into the formed film, with longitudinal seal, the cross seal is done via special sealers ensuring air tightness.
PID digital temperature controller for longitudinal and cross sealers.
Adjustable blade to cut the package.
Pouch length is controlled via a photoelectric sensor (Photocell) that detects all colors.
Control:
Full PLC control.
HMI with LCD color touch-screen (multiple languages available upon request), to control pouch length, photocell function, machine speed, conveyor speed, and extras.
Machine speed is controlled via Inverter.
Main power & emergency stop switches.
All electric components by Schneider Electric.
Packaging Materials:
Heat-seal films, except for pure polyethylene.
Additional Extras:
Printing unit.
 Gas flush (modified atmosphere).
Zigzag cutting blades.
Full stainless steel construction.
Product video
We are here to help
Register now