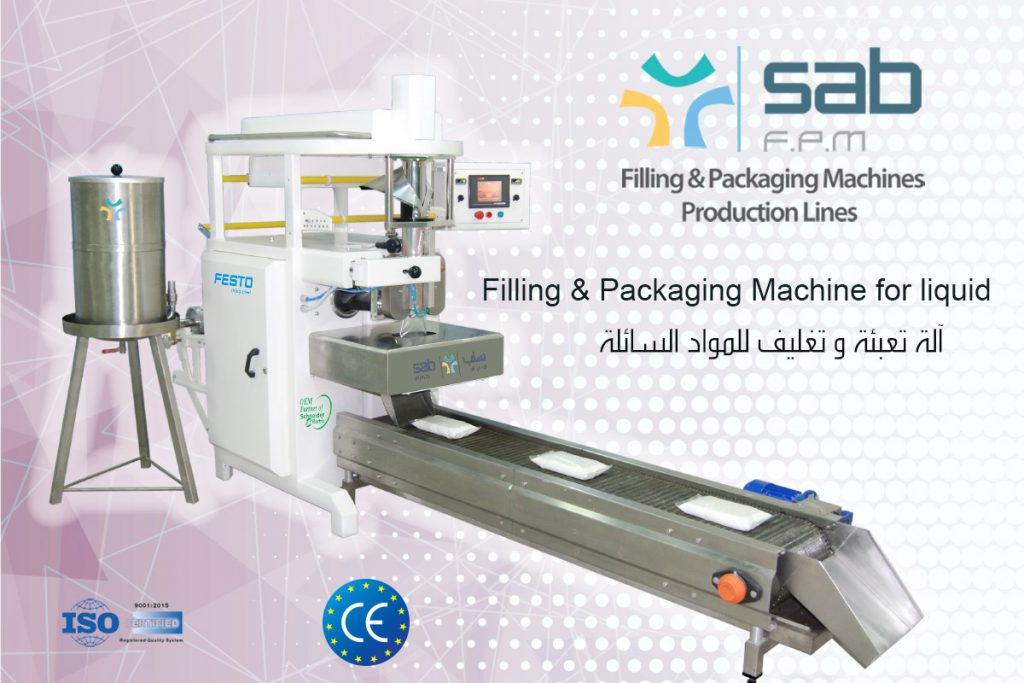 Volumetric Filling Machine for Liquids (water) in polyethylene bags
Manufactured by SAB F.P.M filling & Packaging Machines , in cooperation with Schneider Electric France, and Festo, Germany.
Machine Specifications:
Bag Specifications:
– Bag dimensions: Width: 10-22 cm, length: 10-34 cm.
– Bag Type: Pillow type bag, 3-sides sealing.
Production capacity:
30 packages per minute approximately (for 100 ml filling size), depending on:
– Type of packaging film.
– Product to be filled (its specific weight & its composition).
– Filling volume.
Filling  System :
– Filling is done by an adjustable, stainless steel stroke type pump.
– Pneumatic mechanism to control filling volume.
– Filling heads are made of stainless steel, specially designed according to product to be filled.
– Special anti-leak device.
Pouch Shaping System:
– Pneumatic reciprocating traversal sealing system, with special cooling circle.
– Automatic film feeding system with special guides leading  film until it reaches the forming tube.
– Full safety system.
– Easy to exchange forming set.
– Pneumatically driven vertical sealer.
– Pneumatic system by Festo Germany.
– Electronic bag length control.
– Color photocell.
Control:
-Full PLC control, by Schneider Electric, France.
-Peripheral control panel incorporating:
5.7″ Schneider Electric touch screen, with English & Arabic operation program, through which all machine operation and calibrations are done.
Dominating and monitoring all machine operation and adjustments.
PID Temperature controller for longitudinal, & traversal (Forward +Backward) seals.
Control of all additional accessories.
Control of conveyors movement.
Main control switches for power and emergency stop.
All electric components are Schneider Electric SA (France).
Machine speed control via inverter by Schneider Electric,
Pneumatics supplied by Festo.
Paint:
– All machine parts in contact with material are made of stainless steel, 304 grade.
– Machine frame with electrostatic paint (white colored).
Operating Conditions:
– Electric Power supply: 380 VAC, 3-phase, 50 Hz.
– Compressed air supply: ½ m3, 8 bar, for an average production capacity of 40 pouches per minute.
– Ambient temperature: 10-40 C.
– Maximum external film diameter: 400 mm.
– Packaging film: pure polyethylene only.
Product video
We are here to help
Register now