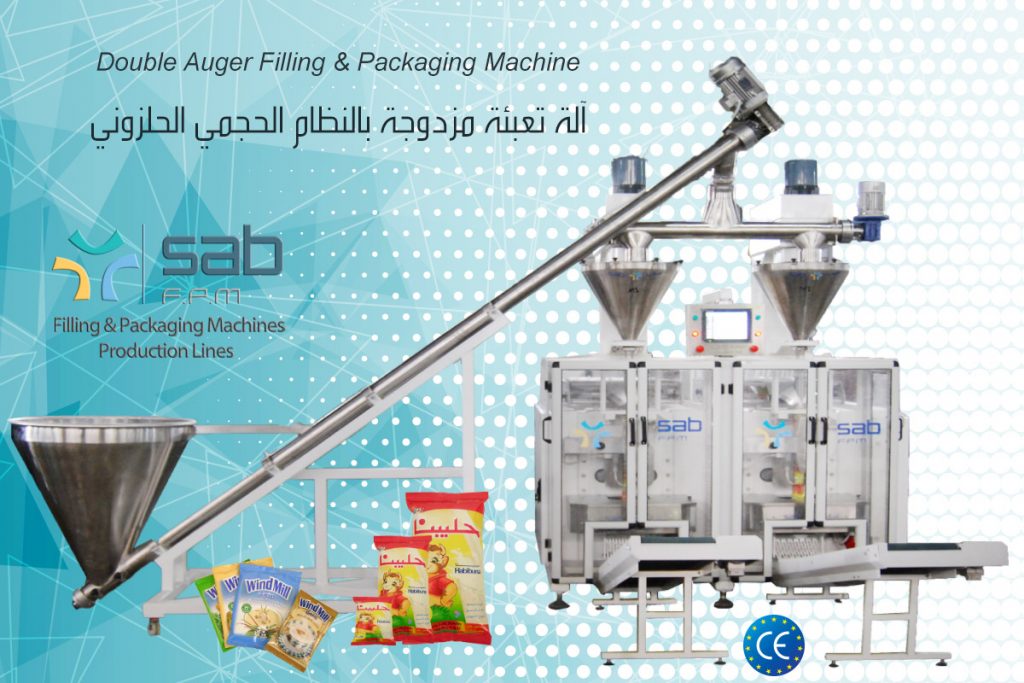 Double Auger Filling & Packaging Machine Model: SAB 11-D
Manufactured by SAB F.P.M Filling and Packaging Machines ,
in cooperation with Schneider Electric France, and Festo, Germany.
Machine Overview:
This machine is dedicated to fill and pack powders  (powder milk, spices, veterinary powder products, cacao powder, … etc.), by volumetric screw system in Pillow type pouches. Other pouch types/ dimensions are available upon special request.
The machine was designed after thorough studies made by a team of technical specialists to ensure all the measures required for the safety and protection of operation and personnel.
Machine design facilitates maintenance and service. Operation does not need special know-how.
Machine undergoes actual quality tests on buyer's products before delivery.
Clients' feedback's were taken into consideration so the machine became highly versatile in meeting clients' requirements and enjoy higher quality and performance.
All machine parts are fabricated on programmable CNC machining centers, and undergoes quality control tests which gives them high reliability.
Machine Operation Principle:
Product is fed to machine via a feeding elevator (optional) which delivers product into machine tank where the volumetric (screw) system fills the relevant product volume that corresponds to the required weight and sends it to packaging station where the pouch is automatically shaped, sealed and marked with production & expiry dates. Finally a finished pouch is produced and sent out of machine, ready for sale (with an option to print out production and expiry date).
Machine specifications:
Filling Specifications:
Pouch dimensions:

Width: 10-22 cm.
Length:10-34 cm.

Pouch shape: Pillow type pouch (4-side sealed, or block bottom gusset pouch are available upon special request).
Production speed:
Machine productivity is:  : 80 packages per minute approx.
Control:
Advanced Industrial  PLC  which controls all machine functions, including filling, packaging, by Schneider Electric SA (France).
TECHNICAL SPECIFICATIONS:
All electric components by .Schneider Electric
All pneumatic components by FESTO.
Components conform to EEC standards
Product video
We are here to help
Register now