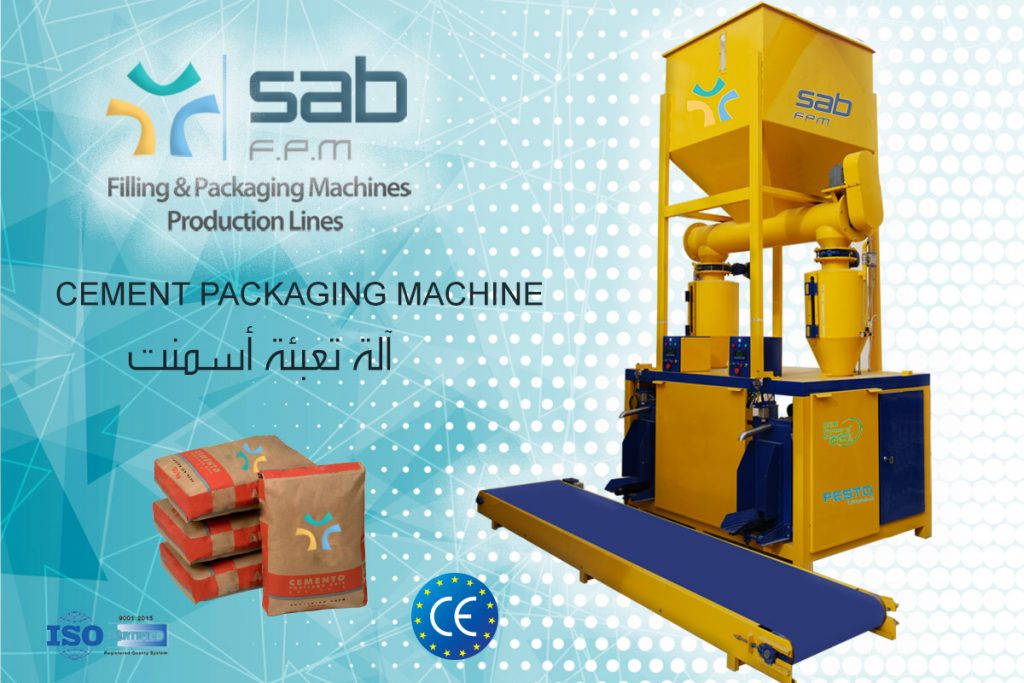 Cement Bulk Filling Machine in Pre-made Sacks  with Double Weigher
 Package Specifications:
Filling weight range: 10-50 kilograms.
Bag dimensions: pre-made bag, with side opening (valve) according to the volume and type of product to be filled.
Standard Deviation:
Actual filling speed and accuracy depend on product type and characteristics, bag size, … etc.
Standard specifications:
Filling System:
Tank capacity: 500 liters.
Tank is made of painted steel.
Auger feeder for weighing unit.
Level detectors, from Schneider Electric, France.
Double gate to feed weighing hopper.
One separate weighing unit for each filling head.
CE marked electronic digital weight control.
CE marked load cell.
Products discharge command via external electronic command.
Products are discharged from the weighing unit into medium tank with auger
 Auger  specifications:
Auger is fixed horizontally.
Made of stainless steel.
With a CE marked motor to ensure the movement of products into the bag.
With a special hole for the valve bags required.
Bag feeding mechanism:
Bags are fed to filling nozzle manually.
An automatic command is issued leading a pneumatic mechanism hold the bag.
After discharging product into bag according to the required weight, the bag is pushed off the filling nozzle manually (a special automatic pusher is available on request).
 Control:
All electric components are Schneider Electric SA (France).
All pneumatic valves are Festo AG (Germany).
Control panel incorporates:
Main control switches for power, emergency stop, and conveyor.
Advanced Industrial PLC which controls all machine functions, by Schneider Electric SA (France).
Paint and finishing:
White colored, thick, and hard thermal paint, to protect machine frame against rust, moisture and scratching.
Operating Conditions:
Electrical supply: 380 VAC, 3 Phase, 50 Hz.
Compressed air supply: 2 m3, at 8 bar.
Temperature range: 10-40 C.
Machine Production capacity:
6 bags per minute approximately, for each machine, based on 25 k.g. bags,
provided that the product is dry & has no tendency to agglomerate.
We are here to help
Register now