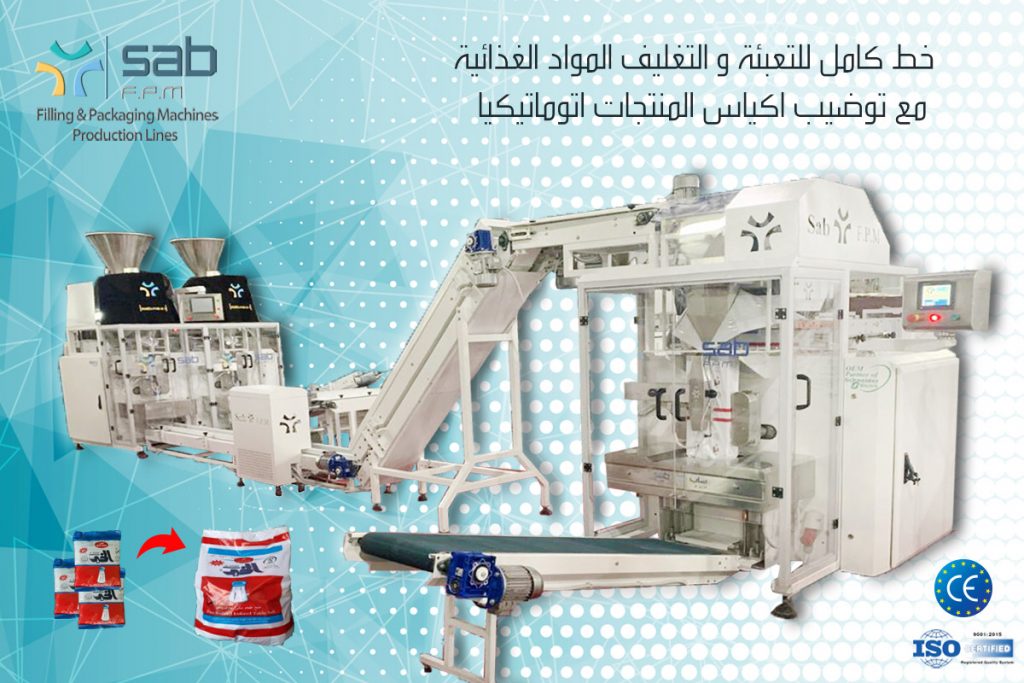 Automatic Multi pack bagging machine (bag baling machine)
to bale ready bags (salt, grain, sugar), 1 K.G., 5 K.G. and pack them in a big bag (bale).
Manufactured by SAB FPM filling & Packaging Machines, in cooperation with Schneider Electric Industries SAS, France, and FESTO AG. & Co., Germany, according to the following specifications:
Machine Overview:
This machine is dedicated to stack and pack ready pouches of products such as salt, sugar, grains, provided that the poaches are uniformed in shape and size, and the total weight of the bale bag does not exceed 20 Kilograms.
The machine was designed after thorough studies made by a team of technical specialists to ensure all the measures required for the safety and protection of operation and personnel.
Machine design facilitates maintenance and service. Operation does not need special know-how.
Machine undergoes actual quality tests on buyer's products before delivery.
Machine is easy to move, assemble and disassemble to facilitate shipping and ensure protection of all machine parts.
Clients' feedbacks were taken into consideration so the machine becomes highly versatile in meeting clients' requirements and enjoy higher quality and performance.
All machine parts are fabricated on programmable CNC machining centers, and undergoes quality control tests, which gives them high reliability.
Smart counting system enabling machine to stack and pack the required number of pouches inside the bale according to the market demand each client requirements.
Machine Operation Cycle:
The small pouches are moved from the two Vertical Form Fill Seal machines via a double in-feed conveyor, which guides their movement sequence and lift them to the multi-pack bagging (baling) machine.
Machine receives the small bags, stack them according to the required shape and quantity inside the bale automatically.
Product video
We are here to help
Register now